TriNet's First Quarterly Results as a Combined Company Show Rapid Growth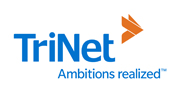 TriNet, the country's second-largest provider of co-employment human resources outsourcing services to small businesses, today announced figures from its third quarter, the first full quarter since the company acquired a public competitor, Florida-based Gevity, in June. Since completing the acquisition, TriNet has added over 350 small business clients representing almost 10,000 employees, and continues on a growth path toward annual net revenues exceeding $160 million, which significantly increase last year's record-setting net revenue figure ($100 million).
"TriNet took a bold step to pursue an acquisition in a down economy, and the great results we achieved from our first quarter as a combined company show that our business strategy is working," said Burton M. Goldfield, TriNet's president and CEO. "We made our numbers on both the expense and revenue sides, and exceeded our goal for new client onboarding."
HR Outsourcing Provider on Path to Nearly Double Revenue
TriNet recorded almost $55 million in net revenue during the third quarter, pushing its year-to-date figure past the $100 million total the company earned last year. The company added 212 clients, employing more than 4,025 workers, during the quarter. In addition, TriNet ran more than 1 million paychecks and enrolled more than 30,000 employees into benefits plans. TriNet now serves as a trusted advisor to more than 8,000 SME's covering 130,000 employees in all 50 states. TriNet further established itself as a leader in the human resources outsourcing industry earlier this year when it announced the first in a series of uniquely tailored solutions geared toward providing small businesses with tools to maximize their investment in human capital. In Q3, TriNet added three services to help small businesses focus on employee retention and motivation in a recovering economy: Compensation Consulting, Team Accelerator and TriNet Perks.
As Goldfield said in last month's announcement, "Having a highly motivated work force that is collaborating toward a common goal will be a key factor in a company's ability to realize their ambitions and accelerate growth as our economy recovers. We want to help companies hold on to the talent that they have, so that employees aren't motivated to look for greener pastures as employment opportunities expand. Ensuring that a company's retention strategies are in place now will help improve the overall level of satisfaction of today's workforce."