As clichéd as it may sound, running a business presents many challenges. You know this if you've been running a business for any length of time.
On top of your core business challenges of creating brand awareness, reaching out to your target audience, and driving sales, there are tons of employment-related laws and regulations that you must adhere to.
These regulations would have been easy to handle if they were to remain static — but they don't.
The regulatory landscape governing employment in the United States is constantly changing, each year Congress passes new laws, businesses must learn how to adapt to the new rules and regulations that follow.
The graphic below clearly illustrates "the growing burden of employment law and regulation" and how employment laws and regulations have grown over time. Every decade introduces new administrative, legal, managerial and reporting obligations on businesses of all sizes.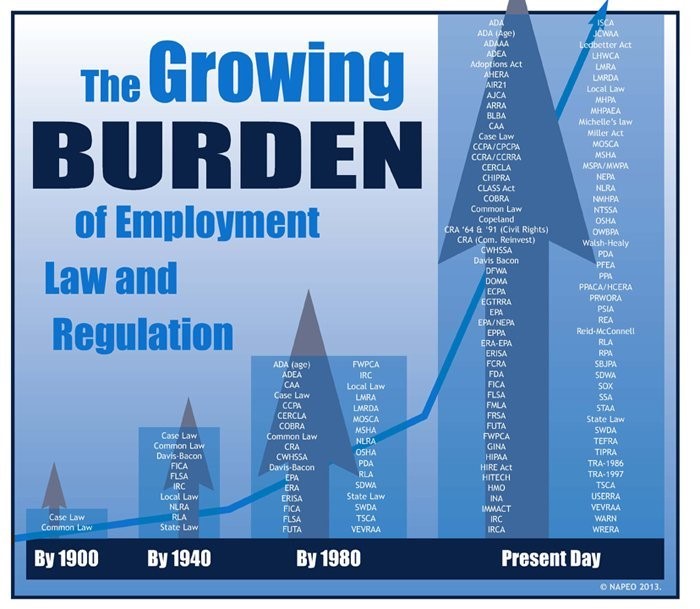 Negotiating and navigating the increasing number of dynamic regulations instituted by the local, state and federal bodies add to the responsibilities of every business owner.
Not only do these regulatory hassles consume a lot of precious time and attention — which a business owner can otherwise use to drive his/her business — but they can be extremely costly if not handled properly.
As of 2016, 1/3rd of small businesses reportedly spent more than 80 hours a year sorting federal taxes alone, and 50% of them had to shell out close to $5,000 a year to tax practitioners and accountants. (Source)
While you cannot make these regulations go away, there's something you can do to save a lot of time, money, and hassles, and it is to hire a PEO.
By simply hiring a PEO to take care of your non-core business functions like payroll, insurance, employee benefits, and compliance, you can grow your business by 7-9%. Your employee turnover rate for your business will be 10-14% lower, and you will end up saving almost $450 per employee per year. (Source)
Now, before we go ahead and talk further about the benefits of hiring a PEO, let's just take a step back here and look at some of the most severe issues facing business owners like you, and how hiring a PEO can help you tackle each one of them.
Issues With Running a Small Business. How Hiring a PEO Can Help
1. Health Insurance and Its Increasing Cost
The cost of health insurance is the biggest issue for most small business owners. Health insurance cost for small businesses has been steadily increasing year after year.
In 2001, the average annual premium for single coverage stood at $2,889 (source). By 2013, the figure had jumped to $5,571; and in a span of another 3 years (by 2016), the average annual premium for single coverage had risen to $6,101. (source: Kaiser Family Foundation's State Health Facts)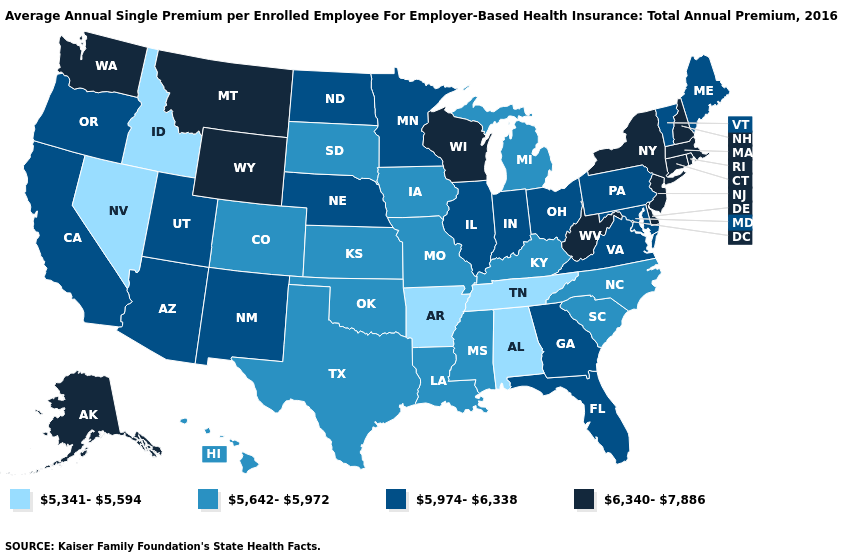 Because of the overburdening insurance cost, many small business owners are opting out of the employer-sponsored health insurance program. They would rather pay the penalty, which is cost-effective in comparison.
This trend is well evidenced by the fact that compared to 1999 when 63% of small businesses with 3-49 employees offered health insurance, only 53% did so in 2016. (Source)
However, unlike small businesses, 96% of the bigger firms offered employer-sponsored health insurance program to their employees, which is one of the reasons why bigger firms are able to attract and retain top talents.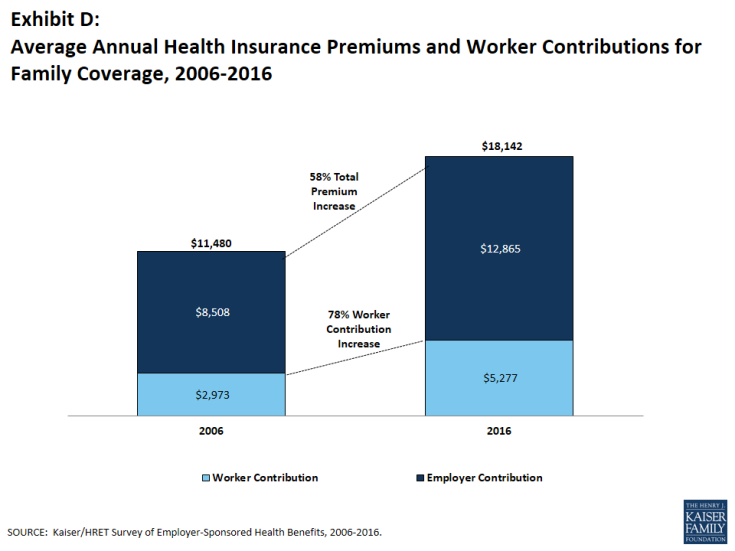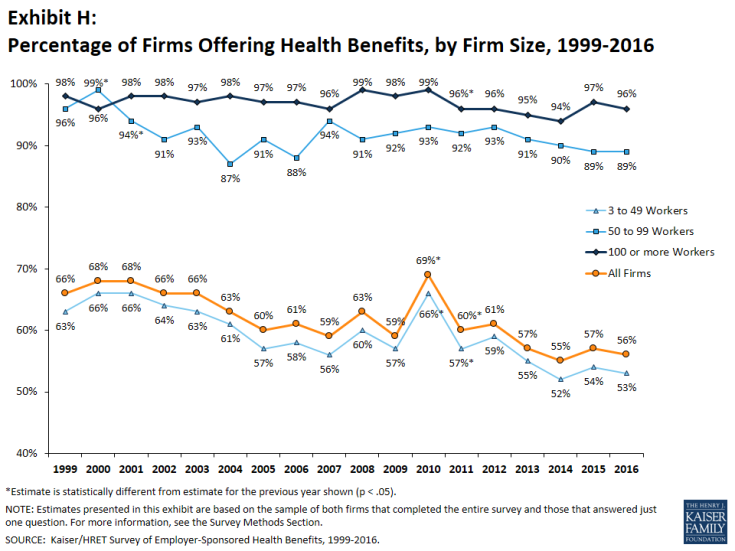 Source: Kaiser/HRET Survey
How can PEOs help small businesses with rising insurance cost?
PEOs manage a large pool of employees from hundreds or thousands of small companies. By consolidating their buying power, professional employer organizations create economies of scale allowing them to negotiate lower group insurance rates for healthcare, workers compensation, and EPLI coverage.
By choosing to partner with a PEO, you get access to these insurance and compensation benefits packages, which are only available for large Fortune-500 companies. This can have a positive impact on a small business' ability to attract and retain top talent.
2. Government Regulations and Staying Compliant with Them
Between 2015 and 2016, more than 6,000 final rules — 6,081 to be precise — were published in the Code of Federal Regulations (CFR). (Source)
To put things into perspective, in last 60 years, while the population of the United States of America increased by 98%, the CFR grew by a massive 850%. In its present form, the CFR features more regulatory restrictions than the King James Bible.

Many of these regulations have a considerably negative impact on businesses across the US — this is especially the case for small and midsize businesses that are of affected disproportionately. Surveys of CEO of SMEs report that they experience a greater cost of compliance than larger corporations who have the expertise and resources internally.
In terms of lost productivity, direct cost, and higher prices, these regulations cost $1.9 trillion a year to the American economy. The cost is 20% higher for small businesses with 50 or fewer employees.
Small businesses simply don't have the time, resource, or propensity to study such voluminous literature and navigate their way through the federal regulatory maze.
As a result, a large number of small businesses simply do not know what needs to be done for compliance.
A study conducted in 2015 revealed that roughly 50% of businesses don't have the ability to keep pace with the constant regulatory changes and additions.
How PEOs help with government regulations?
Professional Employer Organizations employ payroll and HR professionals who analyze and understand the numerous federal, state, and local laws and regulations. Operating as your off sight HR department, they tackle the regulatory compliance hassles on your behalf and ensure your business is operating legally, and your employment practices are compliant at all times.
From managing payroll, administering employee benefits and workers' compensation, helping you prepare handbooks and company policies, PEOs offer you a wide range of HR services.
3. Tax-Related Issues
Tax-related issues are another major problem for most of the small business owners. In addition to the skyrocketing tax rates, adding to the woes of a small business owner is the complexity associated with tax compliance and frequency of tax law changes.
Take the recent passage of The Tax Cuts and Jobs Act for instance. It is the biggest overhaul of the federal tax code since 1986. Now for businesses to remain compliant, they must dedicate the time and energy to understanding the changes to the tax code, and see how the changes will impact their businesses.
It's no wonder why almost 88% of the small businesses in the US depend on tax preparers, which further drives the cost of running and sustaining a business. (Source)
As mentioned, over 1/3rd of small businesses pay upwards of $5,000 a year to tax practitioners while spending 80 hours a year on federal taxes alone. (Source)
How can a PEO help businesses with tax issues?
Professional Employer Organizations not only calculate and process all of your payroll tax obligations; they assume the responsibility for payroll administration assuring the accurate and timely remittance of all local, state and federal tax payments. They eliminate hours of time wasted on payroll tax filing, dealing with the various government agencies, and costly penalties for inaccurate or late payments.
4. Attracting the Right Talent
Organizations, both big and small, depend on employees to drive their growth and success. However, getting the right people to fill the positions your business needs is a constant challenge.
Most CEOs of small and midsize companies find that attracting the people they need to grow their business is challenging, especially when up against bigger competitors who are vying for the same talent you are. As a small business owner, it's difficult to compete with large corporations who offer higher compensation, and a rich benefits package with lots of choices.
As a result, many times, small business to settle for cost-effective hires rather than experienced and qualified candidates.
Professional employer organizations help small and mid-size companies level the playing field when you can offer a wide range of employee perks and insurance benefits.
How can PEOs help you get better-suited talent?
PEOs work with some of the best insurance companies in the country. They usually manage a large pool of employees from multiple companies. This gives them leverage with carriers and enables them to negotiate for attractive benefits packages which they make available to their client companies. Weeks of time wasted shopping for insurance in the small group market is over.
By partnering with an outsourced HR provider, your employees can take advantage of high-quality large group life, health, dental and disability insurance at low rates and without the hassles of underwriting or costly association fees.
Small and midsize companies have access to "state of the art" technology that makes insurance administration simple. Your employee's benefits administration is online and easy to access. Time spent on employee enrolment and processing paperwork is eliminated. Ancillary benefits such as cancer, critical illness, identity theft, and legal expense plans are all available with the click of a button. Some PEOs even have coverage for your pets.
By offering better benefits and a host of attractive employee perks, recognition and rewards programs, even small companies can offer Fortune 500 level perks to attract, hire, and retain top talents.
5. Streamlining HR Operations
HR Operations like filing paperwork on time, managing payroll, documenting your every single employee, keeping track of shifts and overtime hours, managing leave and absence records, staying compliant with local, state, and federal regulations are serious HR hassles.
Streamlining these HR operations are a major challenge for small business owners, who only have so much time and resources on their hands.
How can PEOs help streamline your HR operations?
PEOs automate, eliminate and transfer most of your time consuming and redundant human capital tasks. From administering and maintaining employee files to managing benefits and payroll, and providing risk management and workers' comp, respond to all of your employee and human resource concerns. These professional employment companies are your off-site HR department, providing a team of seasoned professionals who can take care of each and every aspect of your HR operations.
Most leading Professional Employer Organizations utilize sophisticated HRIS (human resources information system) that can help you track and record your employees' working hours, overtime hours, leaves, and absences. The HRIS system can also be used as an all-in-one platform where employees can fill and update their information, access company rules and regulations, receive important notifications, view pay stubs, fill w-4 and other forms online, and for multiple other HR-related purposes.
Conclusion
Most CEOs of small and midsize companies agree that the added hassles of regulatory compliance, recruitment challenges, day-to-day HR operations — takes the fun out of owning your own business.
Adapting to the new regulations expected on healthcare and taxation will consume hours of costly professional services, taking away concentration from more important goals like attracting new clients and building a brand.
When you outsource your HR responsibilities to a Professional Employer Organization, not only will you save time and money, but you gain the ability to focus your efforts and resources on driving profits and growth. The success of your business and your employees depend on it.